Alexia88
(35)
from Germany
Gender: female
Age: 35
Zip code: 24xxx
Country: Germany
I speak: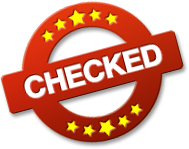 Amateur tags

I am that crazy type of a girl you wish to meet when you are young, but also after you turn forty. An that is because you will het yo experience with a fresh breath of energy combined with all kinds of sexual games. If you are into fetishes, you came to the right girl. If you are into that super hot sloppy b*****b or that hard a**l, then again you came to the right girl. So, what are you into?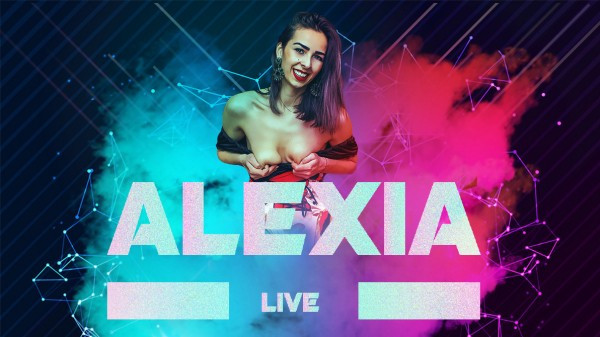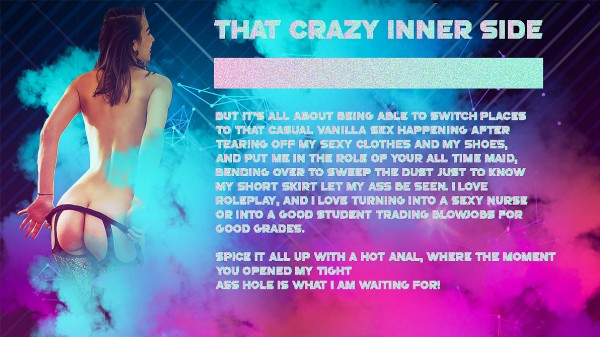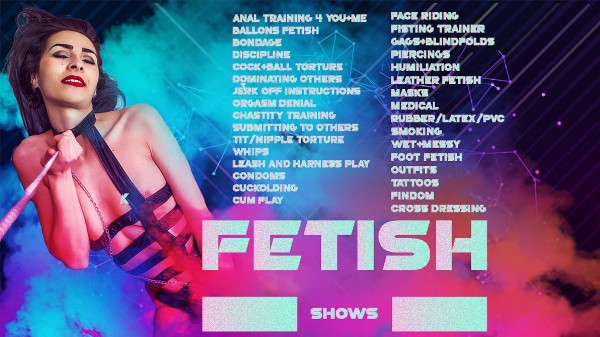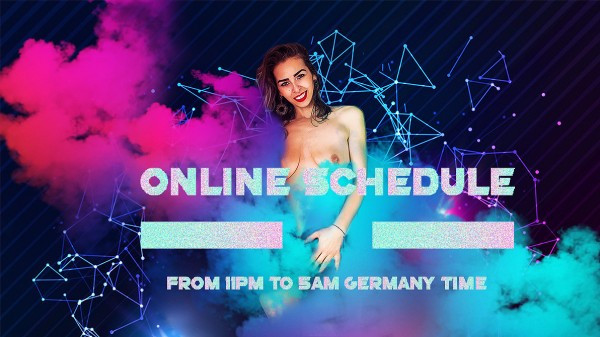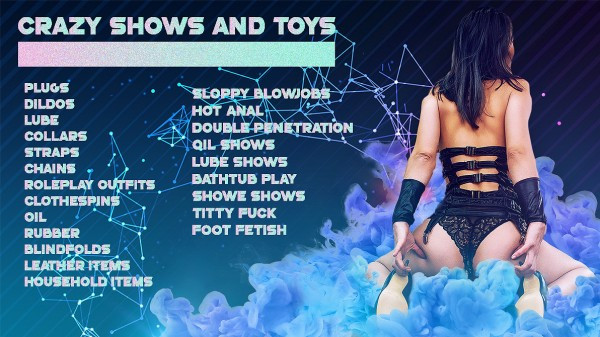 My Personal Info
| | |
| --- | --- |
| Height | 174 cm |
| Weight | 51 kg |
| Ethnicity | White / Caucasian |
| Eye color | brown |
| Hair color | black |
| Hair length | long |
| Figure | slim |
| Body hair | none |
| Pubic hair | none |
| Cup size | D |
| Glasses | yes reading glasses |
| Tattoos | none |
| Piercings | one |
| Marital status | single |
| Smoking | yes sometimes |
My preferences
What I'm looking for, is
a woman
a man
a couple
a transvestite
a transexual
a bisexual
What I would like to experience, is
a flirt
email sex
an affair
a ONS
an exciting friendship
fetish erotic
professional sex
B**M
group sex
What turns me on, is
Vanilla sex
A**l sex
O**l sex
Being submissive
Being dominant
Sex Toys
Swinger
Outdoor sex
Public sex
Dessous
RPG
Voyeurism
B**M
More about me
What I can tell about myself
By now I got to understand what turns me on and explore it to the core. But I am aware that I did not reached the maximum point and I can not do that by myself. So I am currently looking for someone who will share those vibes and resonate with me.
What's being said about me
They say I am so energic I could turn the earth upside down or at least I can get them tired while having the best sex of our time and in the same time ask for more at the end. I am restless and crazy.
My erotic fantasy
I secretly, haha, not so secretly anymore, dream about being invited to a swinging club, and having my own personal slave to walk around. I`ve always wanted a personal ashtray or a walking trash been to punish when it`s not behaving.
Visit my diary daily to stay up to date with everything I do.

Lingerie and p***y
hello darling. i made some new pictures only for you, in my lingerie and my naked p***y. i hope you enjoyed. kisses
waynes691 writes a comment:
wow du bist wunderschön

New video in red lingerie
I made a video in my red underwear. I just want to undress just for you. my p***y is so wet and horny and she`s just waiting for you to caress her.
catweazle01 writes a comment:
wunderhübsche Frau mit g***en T****n
Found in Brunette | European | Close-Up | Lingerie | Amateur

New video
Hey baby, after a long time i just made a video only for you. i just love to be in front of the cam in my red lingerie. i hope you enjoy the video and visit me.
Olli-2015 writes a comment:
hier glaubt man im Spiegel Kabinet zu sein. Aber reizvoll.
RBMaster writes a comment:
Ich möchte Deine L**her verwöhnen

New pictures
I am very sexy in my new lingeries. do you like what you see? i can be your teacher..let me teach you everything you want about sex..What do you say?
Pig-Berni writes a comment:
Sehr schöne Foto-Serie , das edle Schwarz einer Domina gefällt mir am besten . Habe darauf Lust euch Herrin zu dienen
Gentle-Man88 writes a comment:
Sexy Frau in sexy Dessous

Red or Black?
Hey sweety. i made new pictures for you. I dressed in my new lingeries. What do you like more? red or black? i hope you are very very horny like i am. kiss. waiting you to visit my photo
Lichtmaler writes a comment:
Sehr süße maus schöne kleine hänge t****n
elcapo2 writes a comment:
ganz klar - schwarz schwarz und nochmals schwarz ;) wow
Found in Brunette | European | Close-Up | Amateur | Dirty Talk

SHEER NYLONS TO PULL ASIDE
Is your c**k getting harder only while looking at a naked girl with few nylons strings upon her! You have to check my album!
waynes691 writes a comment:
wow du bist wunderschön
Saugi writes a comment:
Traum Frau, sehr sexy
Found in European | Big Tits | Black-Haired | Amateur | Nylons
Meine L**her fragen nach einem S*****z

Dieses Mal stellte ich mir vor, irgendwo draußen im Club zu sein, und ich wurde richtig bes****pst ... Ich trug einen schönen kurzen Rock mit einem schönen kleinen Tanga ... und ein Tanktop ohne BH ... und natürlich bin ich geil. .. so war sogar die Art, wie ich getanzt habe, sinnlich und die Leute können sagen, dass ich geil war von meinem Gesicht ... und meinen Augen ... es war eine Stimmung, die ich abgab ... ich bewege nur meine Hüften und meinen A***h so sinnlich und gleichzeitig umzusehen, ob die Leute schauten und sehen wollten, ob es jemanden gab, mit dem ich gerne tanzte und vielleicht irgendwann f**kte ... meine M***hi wurde so n**s ... ich hatte Angst, dass meine M***hi S**t würde von meinem Höschen zu meinem inneren Oberschenkel fließen ... aber es war mir egal, ich ging weiter ... ein Mann kam von hinten auf mich zu und begann mit mir zu tanzen, und ich mache mit ... mahlen Mein A***h um seinen Schritt ... und er packt meine Schenkel und meine Taille ... Ich kann fühlen, wie sein S*****z unter seiner Hose wächst ... während ich Tagträume davon träume, berühre ich mich selbst und bin sehr nah dran Cumm ing ... also in meinen schmutzigen Gedanken ... stelle ich mir weiterhin das sexy Tanzen vor ... und der Typ flüstert mir ins Ohr "will in den Waschraum gehen, um zu f**ken", und ich sage "nur wenn du meinen Mund vom Schreien abhältst," Weil meine M***hi eng ist und es schwer für dich sein wird, in mich zu passen. Er sagt: Verdammt, ich habe das nicht erwartet.

An diesem Punkt, als ich im Bett liege und mich selbst berühre, stelle ich mir das alles vor ... Ich bin so verdammt geil, dass ich meinen D***o herausnehme und anfange, mich damit zu f**ken ... es gleitet direkt hinein, weil ich so n**s bin bin ... aber es ist ein bisschen eng, weil ich wirklich verdammt eng bin ... ich stöhne ein bisschen, als würde ich mir vorstellen, im Waschraum gef**kt zu werden ... Ich liebe es wirklich, an öffentlichen Orten gef**kt zu werden ... und ich genieße es sogar mehr, wenn ich erwischt werde ... Ich liebe es, wenn Leute sehen, wie geil ich bin und wie sehr ich es genieße, einen schönen S*****z in einem meiner L**her zu haben ...
lustschwengl writes a comment:
Very, very hot and sexy!!
EddiCrocco1 writes a comment:
Du bist eine Süße und Heiße Maus! Sexy und Attraktiv *kuss*
M*****bieren in meinem Hotelzimmer

Ich bin nackt und knie mit weiten Beinen auf dem Bett in einem Hotelzimmer. Ich bin auf einer Geschäftsreise weit weg von zu Hause. Auf dem Bett neben mir liegt die Zeitschrift, die ich kurz nach meiner Landung im Sexshop am Flughafen gekauft habe. Auf dem Cover ist ein Bild eines Mädchens. Sie steht nur in einem bunten Bikiniunterteil, mit großen nackten B***ten und langen blonden Haaren über den Schultern. Ihr Daumen hängt über ihrem Bikini und sie hat den oberen Saum gerade so weit nach unten gezogen, dass ein Hauch ihres braunen S***mhaars sichtbar wird.

Ich schaue auf ihre großen B***te, die Ausbuchtung ihres Sexhügels unter ihrem Bikini, dieses F**zenhaar, diese glatten, gebräunten, provokant ges****zten Oberschenkel. Mein P***s fühlt sich plötzlich schwer an. Es beginnt zu steigen. Ich streichle meinen P***s und meine Eier und beobachte, wie meine halb aufrechte Schaukel horizontal aus meinem eigenen dicken S***mhaarbusch herausragt. Ich öffne das Magazin und blättere durch die Seiten. Es ist dänisch oder schwedisch, aber es ist mir egal, es sind die Bilder in mir, die mich interessieren! Mein Herz beginnt zu schlagen, wenn ich zu Hause kaum legale Sehenswürdigkeiten besuche, nackte Frauen in P***s-Posen, die ich kaum glauben kann, Frauen in Strümpfen und kurzer Unterwäsche und Frauen, die Dinge mit Männern tun, von denen ich bisher nur geträumt habe!
lustschwengl writes a comment:
Very, very hot and sexy!!
EddiCrocco1 writes a comment:
Du bist eine Süße und Heiße Maus! Sexy und Attraktiv *kuss*